About the founders: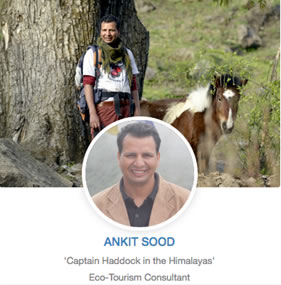 Ankit Sood: The principal founder of Sunshine Himalayan Adventures, Ankit holds a Masters of Philosophy in Ecotourism and has served as a lecturer of tourism at Kullu College (Himachal Pradesh, India) for a period of twelve years. Aside leading treks, tours and looking after the general management of Sunshine Himalayan Adventures, Ankit works as a National Ecotourism Expert involved with the development of tourism in the states of Uttaranchal, Sikkim (in association with the respective state governments) and continues to offer services as a marketing and public relation consultant in the Great Himalayan National Park – several of the park's initiatives including the grooming of guides and birding tours were implemented by him.
Ankit also received positive reviews for leadership skills exhibited on treks from Eileen Macdarg, chief energy officer and motivational speaker in her blog titled 'From the world's highest mountains – a lesson for leaders, and co-founded Kullu Projects, a voluntary initiative that strives to assist disadvantaged children with learning and skill development, among his other largely conservation oriented activities. In 2014, Ankit shifted base to Tirthan valley, the buffer zone of the Great Himalayan National Park – to live in the lap of the forest reserve that helped put his outfit in the limelight as a responsible adventure organizer.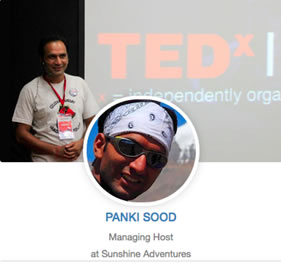 Pankaj Sood: The younger sibling of Ankit Sood and co-founder of Sunshine Himalayan Adventures, Pankaj is a qualified mountaineer trained in advance mountaineering and skiing by the Western Himalayan Mountaineering institute (India), a passionate photographer and shares his brother's love for conservation, environment and outdoor thrills. A love that often takes him hiking across trails in search of brown bears or winter treks, when not leading mountaineering expeditions for Sunshine Himalayan Adventures or looking after its management.
Pankaj is also a member of the B.T.C.A. board (Society for Biodiversity Tourism & Community Advancement) and works with over 500 women in Tirthan valley, the buffer zone of the Great Himalayan National Park. In 2016 he was an invitee of the Indian Institute of Management in Rothak, Haryana, India called upon as a guest speaker for their TedX Event to inspire others with his ordeal of narcotic abuse and his successful renouncement of the substance – an addiction he had picked up in his youth like many youngsters in Kullu valley, prior to joining SHA.